Meter Location Guidelines
Intermountain Gas Home » Safety & Education »
The team at Intermountain Gas Co. (IGC) is committed to customer safety.  The location of the meter, and protecting it from damage, is an important safety issue.  The information below provides meter location guidance for new gas services.  Additionally, IGC provides a summary of meter location standards in the brochure found here.
General Meter Location Standards
Locate the meter as close to the front of the structure as possible
The meter should be at least 36" from an electrical meter or a potential source of ignition
The meter should not be located under or in front of windows or other building openings used as emergency fire exits
Locate the meter where it is safe from damage caused by vehicles
A graphical depiction of these standards is provided (See Figure 1 – General Meter Standard Locations).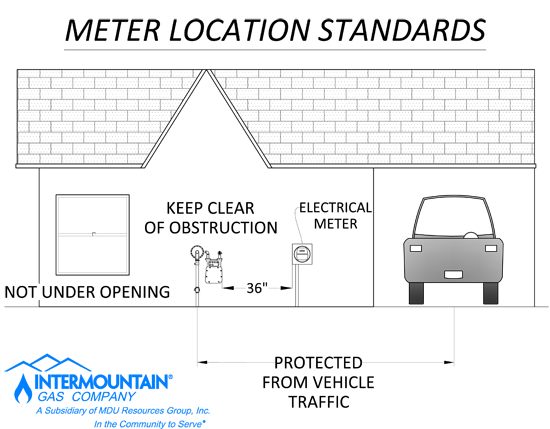 Figure 1. General Meter Location Standards
Heavy Snow Area Standards
IGC will not activate service until the meter is properly protected.  Certain Idaho counties are considered heavy snow areas (see map here) and meters in these ​locations require protection from falling snow and ice.  In these locations the meter will be located in an area where it receives additional protection from snow or ice ​that may fall from the roof (Figure 2 – Heavy Snow Area Meter Locations).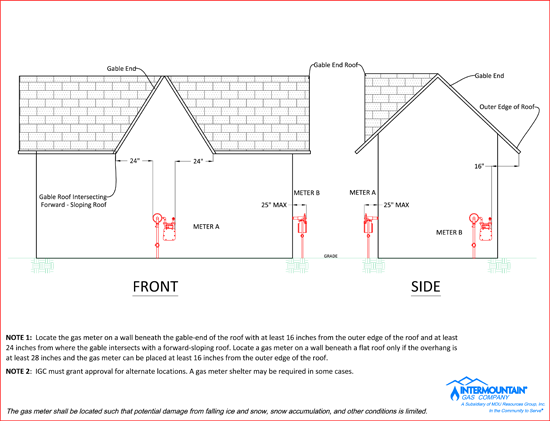 Figure 2. Heavy Snow Area Meter Locations
In the event the meter cannot be located in the proper location on the structure – the meter will require additional protection from potential falling snow and ice.
Option 1 – The building will be constructed to provide at least 28" of overhang above the meter.
A. Roofline extends 28" from exterior wall (Figure 3.).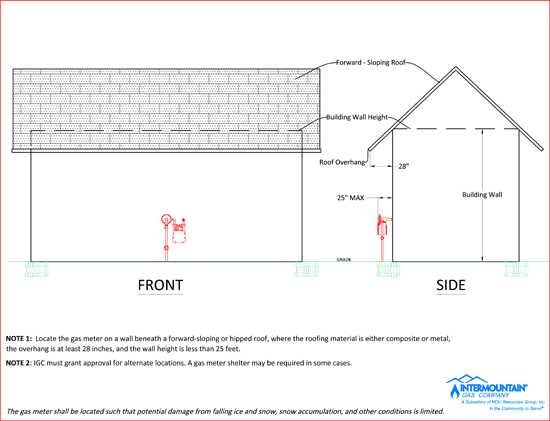 Figure 3. Option 1-A
B. Construct 28" cover into building envelope (Figures 4 ​or 5)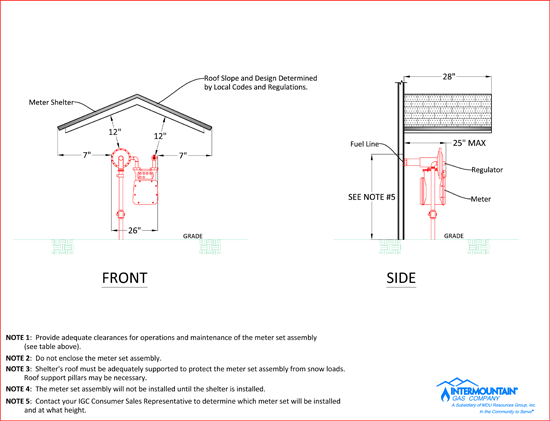 Figure 4. Option 1-B Configuration 1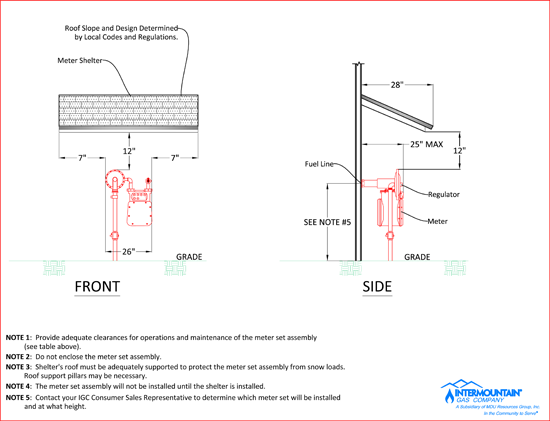 Figure 5. Option 1-B Configuration 2