Atmospheric Corrosion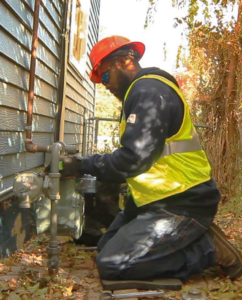 Operating pipelines in the Northwest can pose unique challenges.  One of these unique challenges is atmospheric corrosion.  Atmospheric corrosion occurs when raw metal is exposed to the elements. Since atmospheric corrosion affects many industries, products and best-practices have evolved to combat the problem.  These include specialized coatings, pollutant abatement, and water avoidance, to name a few.
Because Intermountain Gas knows that atmospheric corrosion will occur, the best way to address it is through a progressive maintenance program.  This is accomplished through constant examination of equipment and the application of coatings which repel water and other elements away from the steel.
Current AC Mitigation Projects
Intermountain Gas is currently conducting AC mitigation in the area outlined on the map below, and will need access to your property. To learn what is involved in AC mitigation, please view the video farther down on this page.
Atmospheric Corrosion Mitigation Process
Watch the video below to see how Intermountain Gas technicians mitigate atmospheric corrosion of gas piping leading to your meter.
Gas Meter Survey
Intermountain Gas Company personnel will be conducting an atmospheric corrosion survey on gas meters over the next few months.  Your gas meter may be selected for this survey. This survey includes an inspection of the meter and is necessary to comply with Federal regulations.  The regulation requires our employees to physically assess the condition of our meters.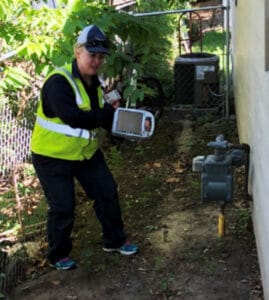 The atmospheric corrosion survey is a regular maintenance inspection that occurs on a rotating basis of at least once every three years. The inspectors look for the following:
accessibility to the meter set (two feet of clearance to each side, and three feet of clearance to the front of the meter)
landscaping or other obstacles that may block access to the meter set in the event of a natural gas emergency or fire
stressors and binds  to the Intermountain piping system from landscaping and other impedances
corrosion, paint condition, an d other safety and operational issues
Deficiencies found during the inspection will be mitigated later by Intermountain personnel, or the customer, if their landscaping is the concern.
Notification of this program has been issued through inserts included with the customer's bill, electronic version of the notice included with ebill customers monthly bills, printed messages directly on the customers printed and electronic bill, and social platforms (Facebook, Twitter, Instagram, and LinkedIn).
You will be able to recognize Intermountain Gas employees by the personal protective equipment (high visibility vests and clothing) uniforms with the Intermountain Gas logo and will be driving our company vehicles.  They will also be carrying handheld tablet computers to complete their work for this survey.
Always allow safe and easy access to your gas meter by keeping the area in front of and around your meter clear at all times.  We need at least two feet of clearance around the meter to provide visibility and access for routine work and also in case of any emergency.
Notices sent to customers:
Message on Bill: