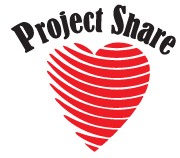 People Helping People
Because of illness, loss of employment or other crisis, some Idaho families have difficulty paying their heating bills. Project Share is designed to help our neighbors with temporary heating emergencies (it is not a long-term assistance program).
Want to help a neighbor with their heating bill this winter?
Send your tax-deductible contribution to:
Project Share
4308 West State Street                                            
Boise, ID 83703
Or, contributions can be made automatically with your Intermountain Gas payment each month by signing up for a monthly pledge amount. For more information, please contact Intermountain Gas Customer Service at 208-377-6840 or 1-800-548-3479.
Need help with your heating bill?
If you would like to apply for energy assistance or want additional information about Project Share, call the Project Share distribution center nearest you.
| | | |
| --- | --- | --- |
| Center | Phone | County |
| Salvation Army | 208-343-5429 | Ada |
| Salvation Army | 208-232-5318 | Bannock |
| SEICAA | 208-785-1583 | Bingham |
| Judicial Building | 208-788-5566 | Blaine/Hailey/Ketchum |
| SCCAP | 208-678-3514 | Cassia/Minidoka |
| Salvation Army | 208-467-6586 | Canyon (East) |
| Salvation Army | 208-459-2011 | Canyon (West) |
| Salvation Army | 208-598-0933 | Elmore/Owyhee |
| SICAA | 208-785-1583 | Fort Hall |
| WICAP | 208-365-3116 | Gem |
| Welfare Director | 208-934-5479 | Gooding |
| SCCAP | 208-627-1733 | Jerome |
| Lincoln County Courthouse | 208-886-7641 | Lincoln |
| WICAP | 208-642-4436 | Payette |
| Power County Clerk | 208-226-7611 | Power |
| Salvation Army | 208-733-8720 | Twin Falls |
| WICAP | 208-549-2066 | Washington & Adams |