Intermountain Gas names Gilchrist vice president of operations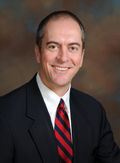 BOISE, ID – May 13, 2015 – Intermountain Gas announced today that Hart Gilchrist has been named vice president of operations, effective July 1, 2015.
Gilchrist began his career with Intermountain Gas in June 1994 and has held positions of increasing responsibilities over his career. He most recently was director of operation services for Intermountain, based in Boise.
"Hart has shown great leadership ability in his previous positions with the company and I look forward to his continued success in this new role," said Scott Madison, executive vice president and general manager for Intermountain Gas. "His extensive natural gas operational experience will be a great fit on our executive team."
Gilchrist has a finance degree from the University of Idaho and a master's degree in business administration from Boise State University. He also is a graduate of the University of Idaho's Utility Executive Course.
Comments are closed.