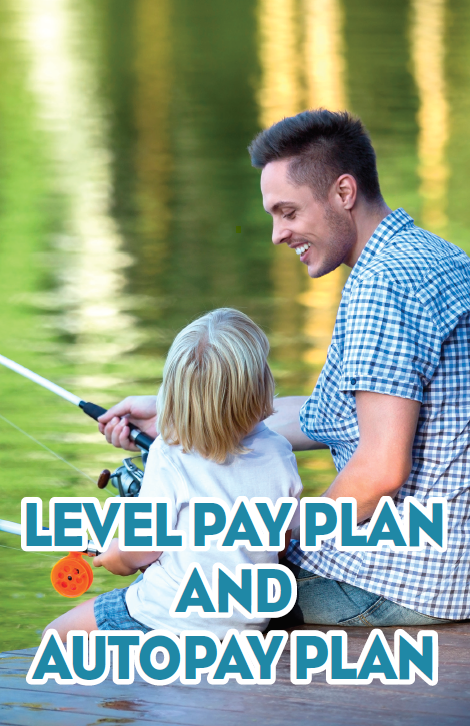 Simplify your Life
by combining these free services and spend more time on something else
How Level Pay and AutoPay Work Together
It's the perfect pair! AutoPay provides the convenience of having your monthly bill paid automatically. Your monthly statement will show your automatic payment amount and the date it will be withdrawn from your bank account. When you sign up for both AutoPay and Level Pay, your Level Pay amount will also be your monthly AutoPay amount. This makes budgeting easy by allowing you to make equal, monthly payments automatically.
---
How Level Pay Works
This plan takes the guesswork out of budgeting and levels out your monthly energy expenses so you don't have to be concerned about extremes in the weather impacting your bill. You pay an even monthly amount through the year, as opposed to paying larger bills in the winter when you use more natural gas.
Available to all residential and small commercial customers who meet the program criteria. You may join anytime during the year.
To request enrollment, log in to your account online at intgas.com. Eligible accounts have a Balanced Billing, "Sign up Now" button on the right-hand side of the main account page.
You also can contact us by calling our customer service number listed below.
To calculate your payment amount, we total your previous 12 months of energy use and average that amount into even payments.
Your Level Pay amount will be reviewed and adjusted periodically. It may be adjusted due to weather, price fluctuations, or consumptions changes.
If at the end of the program year, you have a debit balance that is equal to or less than two level payments, it will be rolled into the new Level Pay amount. A debit balance greater than two or more of your level payments should be paid before the new Level Pay year begins.
Level Payments must be made each month. Missing payments may result in removal from Level Pay, at which time the full balance will become due.
---
How AutoPay Works
With AutoPay, your preauthorized payment will be withdrawn from your financial institution on the day your bill payment is due.
There is no charge for this service. You will save time and money on postage, plus no more checks to write!
Enroll online to take advantage of this convenient payment option. Once enrolled, you will receive a confirmation email from us. You also will receive a notice on your next bill that AutoPay is active and the date your payment will be withdrawn from your financial institution. Please continue to make payments as normal until AutoPay is in effect.
Sign up today – enroll electronically or contact Customer Service at the numbers listed below to request an enrollment package.
---
Electronic Enrollment
Ebilling and AutoPay:  If you receive your bill electronically, you can enjoy the convenience of having your bills paid automatically. Your ebill will show your AutoPay amount and date it will be withdrawn from your financial institution. To receive, view and pay your bill online, or for more information about ebills, visit us at www.intgas.com.
---

Customer Service
208-377-6840 (Boise/Treasure Valley)
800-548-3679 (Other Areas)
7 a.m. – 7 p.m. Monday – Friday