What is the WHOLE HOME rebate from Intermountain Gas?
Intermountain Gas is offering a $1,200 WHOLE HOME rebate for homes that are ENERGY STAR certified and have a HERS (Home Energy Rating System) score of 75 of less. (The home must use natural gas for space and water heating, see complete terms and conditions at intgas.com/saveenergy)
What is ENERGY STAR?


"The little label with the big message." ENERGY STAR is a U.S. Environmental Protection Agency voluntary program that helps businesses and individuals save money and protect our climate through superior energy efficiency. Intermountain Gas Company has been an ENERGY STAR partner since 2007.  Learn more about ENERGY STAR here.
What is the ENERGY STAR certified home difference? Better quality. Better comfort. Better durability. Reduced utility and maintenance costs. The ENERGY STAR label means your home has undergone a better process of inspections, testing and verification to ensure that it meets strict requirements set by the U.S. Environmental Protection Agency (EPA). Check out the ENERGY STAR video "Better is better," for more information.
What is a HERS score?
Now that you know why an ENERGY STAR certified home is better, what exactly is a HERS score? The HERS (Home Energy Rating System) Index is the standard for measuring a home's

energy efficiency. It is a nationally recognized system and homes are inspected by an independent, certified home rater. And when it comes to the HERS score, remember, the lower the score, the better! Check out this video to learn more. Or visit the interactive HERS Index demonstration here.
What is the difference between an energy rating and an energy audit?
An energy rating will: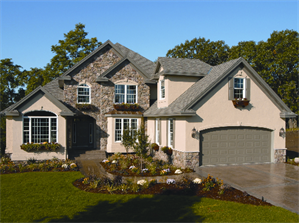 Tell you how energy efficient your home is when compared to others
Give you a HERS Index score
Give you an idea of the energy costs of your home.
An energy audit will:
Assess how your home is losing energy
Examine inefficient systems
Identify cost saving measures that can correct the situation
For energy saving tips check out the RESET Interactive House here.
Learn more about energy ratings and energy audits from RESNET (Residential Energy Services Network), the national standards-making body for building energy efficiency rating and certification systems in the United States, or find a RESNET Professional member here.
Find an ENERGY STAR certified builder or RESNET home rater.
Now that you know why "better is better," and you want to purchase or build your ENERGY STAR certified home, Search ENERGY STAR to find an ENERGY STAR certified builder or home rater. You can also use the RESNET HERS Rated home data base to find out if a home has been HERS-rated.


Find ENERGY STAR certified builder here.